Istorija
Warning
: count(): Parameter must be an array or an object that implements Countable in
/homepages/28/d276247228/htdocs/000-TBL-000/VOJvojvode2/wp-content/plugins/nextgen-gallery/products/photocrati_nextgen/modules/fs/package.module.fs.php
on line
263
Warning
: count(): Parameter must be an array or an object that implements Countable in
/homepages/28/d276247228/htdocs/000-TBL-000/VOJvojvode2/wp-content/plugins/nextgen-gallery/products/photocrati_nextgen/modules/fs/package.module.fs.php
on line
263
Warning
: count(): Parameter must be an array or an object that implements Countable in
/homepages/28/d276247228/htdocs/000-TBL-000/VOJvojvode2/wp-content/plugins/nextgen-gallery/products/photocrati_nextgen/modules/fs/package.module.fs.php
on line
263
Warning
: count(): Parameter must be an array or an object that implements Countable in
/homepages/28/d276247228/htdocs/000-TBL-000/VOJvojvode2/wp-content/plugins/nextgen-gallery/products/photocrati_nextgen/modules/fs/package.module.fs.php
on line
263
Warning
: count(): Parameter must be an array or an object that implements Countable in
/homepages/28/d276247228/htdocs/000-TBL-000/VOJvojvode2/wp-content/plugins/nextgen-gallery/products/photocrati_nextgen/modules/fs/package.module.fs.php
on line
263
Warning
: count(): Parameter must be an array or an object that implements Countable in
/homepages/28/d276247228/htdocs/000-TBL-000/VOJvojvode2/wp-content/plugins/nextgen-gallery/products/photocrati_nextgen/modules/fs/package.module.fs.php
on line
263
Warning
: count(): Parameter must be an array or an object that implements Countable in
/homepages/28/d276247228/htdocs/000-TBL-000/VOJvojvode2/wp-content/plugins/nextgen-gallery/products/photocrati_nextgen/modules/fs/package.module.fs.php
on line
263
Warning
: count(): Parameter must be an array or an object that implements Countable in
/homepages/28/d276247228/htdocs/000-TBL-000/VOJvojvode2/wp-content/plugins/nextgen-gallery/products/photocrati_nextgen/modules/fs/package.module.fs.php
on line
263
Warning
: count(): Parameter must be an array or an object that implements Countable in
/homepages/28/d276247228/htdocs/000-TBL-000/VOJvojvode2/wp-content/plugins/nextgen-gallery/products/photocrati_nextgen/modules/fs/package.module.fs.php
on line
263
Warning
: count(): Parameter must be an array or an object that implements Countable in
/homepages/28/d276247228/htdocs/000-TBL-000/VOJvojvode2/wp-content/plugins/nextgen-gallery/products/photocrati_nextgen/modules/fs/package.module.fs.php
on line
263
Warning
: count(): Parameter must be an array or an object that implements Countable in
/homepages/28/d276247228/htdocs/000-TBL-000/VOJvojvode2/wp-content/plugins/nextgen-gallery/products/photocrati_nextgen/modules/fs/package.module.fs.php
on line
263
Warning
: count(): Parameter must be an array or an object that implements Countable in
/homepages/28/d276247228/htdocs/000-TBL-000/VOJvojvode2/wp-content/plugins/nextgen-gallery/products/photocrati_nextgen/modules/fs/package.module.fs.php
on line
263
Warning
: count(): Parameter must be an array or an object that implements Countable in
/homepages/28/d276247228/htdocs/000-TBL-000/VOJvojvode2/wp-content/plugins/nextgen-gallery/products/photocrati_nextgen/modules/fs/package.module.fs.php
on line
263
Warning
: count(): Parameter must be an array or an object that implements Countable in
/homepages/28/d276247228/htdocs/000-TBL-000/VOJvojvode2/wp-content/plugins/nextgen-gallery/products/photocrati_nextgen/modules/fs/package.module.fs.php
on line
263
Warning
: count(): Parameter must be an array or an object that implements Countable in
/homepages/28/d276247228/htdocs/000-TBL-000/VOJvojvode2/wp-content/plugins/nextgen-gallery/products/photocrati_nextgen/modules/fs/package.module.fs.php
on line
263
Warning
: count(): Parameter must be an array or an object that implements Countable in
/homepages/28/d276247228/htdocs/000-TBL-000/VOJvojvode2/wp-content/plugins/nextgen-gallery/products/photocrati_nextgen/modules/fs/package.module.fs.php
on line
263
Warning
: count(): Parameter must be an array or an object that implements Countable in
/homepages/28/d276247228/htdocs/000-TBL-000/VOJvojvode2/wp-content/plugins/nextgen-gallery/products/photocrati_nextgen/modules/fs/package.module.fs.php
on line
263
Warning
: count(): Parameter must be an array or an object that implements Countable in
/homepages/28/d276247228/htdocs/000-TBL-000/VOJvojvode2/wp-content/plugins/nextgen-gallery/products/photocrati_nextgen/modules/fs/package.module.fs.php
on line
263
Warning
: count(): Parameter must be an array or an object that implements Countable in
/homepages/28/d276247228/htdocs/000-TBL-000/VOJvojvode2/wp-content/plugins/nextgen-gallery/products/photocrati_nextgen/modules/fs/package.module.fs.php
on line
263
Warning
: count(): Parameter must be an array or an object that implements Countable in
/homepages/28/d276247228/htdocs/000-TBL-000/VOJvojvode2/wp-content/plugins/nextgen-gallery/products/photocrati_nextgen/modules/fs/package.module.fs.php
on line
263
Warning
: count(): Parameter must be an array or an object that implements Countable in
/homepages/28/d276247228/htdocs/000-TBL-000/VOJvojvode2/wp-content/plugins/nextgen-gallery/products/photocrati_nextgen/modules/fs/package.module.fs.php
on line
263
Warning
: count(): Parameter must be an array or an object that implements Countable in
/homepages/28/d276247228/htdocs/000-TBL-000/VOJvojvode2/wp-content/plugins/nextgen-gallery/products/photocrati_nextgen/modules/fs/package.module.fs.php
on line
263
Warning
: count(): Parameter must be an array or an object that implements Countable in
/homepages/28/d276247228/htdocs/000-TBL-000/VOJvojvode2/wp-content/plugins/nextgen-gallery/products/photocrati_nextgen/modules/fs/package.module.fs.php
on line
263
Warning
: count(): Parameter must be an array or an object that implements Countable in
/homepages/28/d276247228/htdocs/000-TBL-000/VOJvojvode2/wp-content/plugins/nextgen-gallery/products/photocrati_nextgen/modules/fs/package.module.fs.php
on line
263
Warning
: count(): Parameter must be an array or an object that implements Countable in
/homepages/28/d276247228/htdocs/000-TBL-000/VOJvojvode2/wp-content/plugins/nextgen-gallery/products/photocrati_nextgen/modules/fs/package.module.fs.php
on line
263
Warning
: count(): Parameter must be an array or an object that implements Countable in
/homepages/28/d276247228/htdocs/000-TBL-000/VOJvojvode2/wp-content/plugins/nextgen-gallery/products/photocrati_nextgen/modules/fs/package.module.fs.php
on line
263
Warning
: count(): Parameter must be an array or an object that implements Countable in
/homepages/28/d276247228/htdocs/000-TBL-000/VOJvojvode2/wp-content/plugins/nextgen-gallery/products/photocrati_nextgen/modules/fs/package.module.fs.php
on line
263
Warning
: count(): Parameter must be an array or an object that implements Countable in
/homepages/28/d276247228/htdocs/000-TBL-000/VOJvojvode2/wp-content/plugins/nextgen-gallery/products/photocrati_nextgen/modules/fs/package.module.fs.php
on line
263
Warning
: count(): Parameter must be an array or an object that implements Countable in
/homepages/28/d276247228/htdocs/000-TBL-000/VOJvojvode2/wp-content/plugins/nextgen-gallery/products/photocrati_nextgen/modules/fs/package.module.fs.php
on line
263
Warning
: count(): Parameter must be an array or an object that implements Countable in
/homepages/28/d276247228/htdocs/000-TBL-000/VOJvojvode2/wp-content/plugins/nextgen-gallery/products/photocrati_nextgen/modules/fs/package.module.fs.php
on line
263
Warning
: count(): Parameter must be an array or an object that implements Countable in
/homepages/28/d276247228/htdocs/000-TBL-000/VOJvojvode2/wp-content/plugins/nextgen-gallery/products/photocrati_nextgen/modules/fs/package.module.fs.php
on line
263
Warning
: count(): Parameter must be an array or an object that implements Countable in
/homepages/28/d276247228/htdocs/000-TBL-000/VOJvojvode2/wp-content/plugins/nextgen-gallery/products/photocrati_nextgen/modules/fs/package.module.fs.php
on line
263
Warning
: count(): Parameter must be an array or an object that implements Countable in
/homepages/28/d276247228/htdocs/000-TBL-000/VOJvojvode2/wp-content/plugins/nextgen-gallery/products/photocrati_nextgen/modules/fs/package.module.fs.php
on line
263
Warning
: count(): Parameter must be an array or an object that implements Countable in
/homepages/28/d276247228/htdocs/000-TBL-000/VOJvojvode2/wp-content/plugins/nextgen-gallery/products/photocrati_nextgen/modules/fs/package.module.fs.php
on line
263
Warning
: count(): Parameter must be an array or an object that implements Countable in
/homepages/28/d276247228/htdocs/000-TBL-000/VOJvojvode2/wp-content/plugins/nextgen-gallery/products/photocrati_nextgen/modules/fs/package.module.fs.php
on line
263
Warning
: count(): Parameter must be an array or an object that implements Countable in
/homepages/28/d276247228/htdocs/000-TBL-000/VOJvojvode2/wp-content/plugins/nextgen-gallery/products/photocrati_nextgen/modules/fs/package.module.fs.php
on line
263
Warning
: count(): Parameter must be an array or an object that implements Countable in
/homepages/28/d276247228/htdocs/000-TBL-000/VOJvojvode2/wp-content/plugins/nextgen-gallery/products/photocrati_nextgen/modules/fs/package.module.fs.php
on line
263
Warning
: count(): Parameter must be an array or an object that implements Countable in
/homepages/28/d276247228/htdocs/000-TBL-000/VOJvojvode2/wp-content/plugins/nextgen-gallery/products/photocrati_nextgen/modules/fs/package.module.fs.php
on line
263
Warning
: count(): Parameter must be an array or an object that implements Countable in
/homepages/28/d276247228/htdocs/000-TBL-000/VOJvojvode2/wp-content/plugins/nextgen-gallery/products/photocrati_nextgen/modules/fs/package.module.fs.php
on line
263
Warning
: count(): Parameter must be an array or an object that implements Countable in
/homepages/28/d276247228/htdocs/000-TBL-000/VOJvojvode2/wp-content/plugins/nextgen-gallery/products/photocrati_nextgen/modules/fs/package.module.fs.php
on line
263
Warning
: count(): Parameter must be an array or an object that implements Countable in
/homepages/28/d276247228/htdocs/000-TBL-000/VOJvojvode2/wp-content/plugins/nextgen-gallery/products/photocrati_nextgen/modules/fs/package.module.fs.php
on line
263
Warning
: count(): Parameter must be an array or an object that implements Countable in
/homepages/28/d276247228/htdocs/000-TBL-000/VOJvojvode2/wp-content/plugins/nextgen-gallery/products/photocrati_nextgen/modules/fs/package.module.fs.php
on line
263
Warning
: count(): Parameter must be an array or an object that implements Countable in
/homepages/28/d276247228/htdocs/000-TBL-000/VOJvojvode2/wp-content/plugins/nextgen-gallery/products/photocrati_nextgen/modules/fs/package.module.fs.php
on line
263
Warning
: count(): Parameter must be an array or an object that implements Countable in
/homepages/28/d276247228/htdocs/000-TBL-000/VOJvojvode2/wp-content/plugins/nextgen-gallery/products/photocrati_nextgen/modules/fs/package.module.fs.php
on line
263
Warning
: count(): Parameter must be an array or an object that implements Countable in
/homepages/28/d276247228/htdocs/000-TBL-000/VOJvojvode2/wp-content/plugins/nextgen-gallery/products/photocrati_nextgen/modules/fs/package.module.fs.php
on line
263
Warning
: count(): Parameter must be an array or an object that implements Countable in
/homepages/28/d276247228/htdocs/000-TBL-000/VOJvojvode2/wp-content/plugins/nextgen-gallery/products/photocrati_nextgen/modules/fs/package.module.fs.php
on line
263
Warning
: count(): Parameter must be an array or an object that implements Countable in
/homepages/28/d276247228/htdocs/000-TBL-000/VOJvojvode2/wp-content/plugins/nextgen-gallery/products/photocrati_nextgen/modules/fs/package.module.fs.php
on line
263
Warning
: count(): Parameter must be an array or an object that implements Countable in
/homepages/28/d276247228/htdocs/000-TBL-000/VOJvojvode2/wp-content/plugins/nextgen-gallery/products/photocrati_nextgen/modules/fs/package.module.fs.php
on line
263
Warning
: count(): Parameter must be an array or an object that implements Countable in
/homepages/28/d276247228/htdocs/000-TBL-000/VOJvojvode2/wp-content/plugins/nextgen-gallery/products/photocrati_nextgen/modules/fs/package.module.fs.php
on line
263
Warning
: count(): Parameter must be an array or an object that implements Countable in
/homepages/28/d276247228/htdocs/000-TBL-000/VOJvojvode2/wp-content/plugins/nextgen-gallery/products/photocrati_nextgen/modules/fs/package.module.fs.php
on line
263
Warning
: count(): Parameter must be an array or an object that implements Countable in
/homepages/28/d276247228/htdocs/000-TBL-000/VOJvojvode2/wp-content/plugins/nextgen-gallery/products/photocrati_nextgen/modules/fs/package.module.fs.php
on line
263
Warning
: count(): Parameter must be an array or an object that implements Countable in
/homepages/28/d276247228/htdocs/000-TBL-000/VOJvojvode2/wp-content/plugins/nextgen-gallery/products/photocrati_nextgen/modules/fs/package.module.fs.php
on line
263
Warning
: count(): Parameter must be an array or an object that implements Countable in
/homepages/28/d276247228/htdocs/000-TBL-000/VOJvojvode2/wp-content/plugins/nextgen-gallery/products/photocrati_nextgen/modules/fs/package.module.fs.php
on line
263
Warning
: count(): Parameter must be an array or an object that implements Countable in
/homepages/28/d276247228/htdocs/000-TBL-000/VOJvojvode2/wp-content/plugins/nextgen-gallery/products/photocrati_nextgen/modules/fs/package.module.fs.php
on line
263
Warning
: count(): Parameter must be an array or an object that implements Countable in
/homepages/28/d276247228/htdocs/000-TBL-000/VOJvojvode2/wp-content/plugins/nextgen-gallery/products/photocrati_nextgen/modules/fs/package.module.fs.php
on line
263
Warning
: count(): Parameter must be an array or an object that implements Countable in
/homepages/28/d276247228/htdocs/000-TBL-000/VOJvojvode2/wp-content/plugins/nextgen-gallery/products/photocrati_nextgen/modules/fs/package.module.fs.php
on line
263
Warning
: count(): Parameter must be an array or an object that implements Countable in
/homepages/28/d276247228/htdocs/000-TBL-000/VOJvojvode2/wp-content/plugins/nextgen-gallery/products/photocrati_nextgen/modules/fs/package.module.fs.php
on line
263
Warning
: count(): Parameter must be an array or an object that implements Countable in
/homepages/28/d276247228/htdocs/000-TBL-000/VOJvojvode2/wp-content/plugins/nextgen-gallery/products/photocrati_nextgen/modules/fs/package.module.fs.php
on line
263
Warning
: count(): Parameter must be an array or an object that implements Countable in
/homepages/28/d276247228/htdocs/000-TBL-000/VOJvojvode2/wp-content/plugins/nextgen-gallery/products/photocrati_nextgen/modules/fs/package.module.fs.php
on line
263
Warning
: count(): Parameter must be an array or an object that implements Countable in
/homepages/28/d276247228/htdocs/000-TBL-000/VOJvojvode2/wp-content/plugins/nextgen-gallery/products/photocrati_nextgen/modules/fs/package.module.fs.php
on line
263
Warning
: count(): Parameter must be an array or an object that implements Countable in
/homepages/28/d276247228/htdocs/000-TBL-000/VOJvojvode2/wp-content/plugins/nextgen-gallery/products/photocrati_nextgen/modules/fs/package.module.fs.php
on line
263
Warning
: count(): Parameter must be an array or an object that implements Countable in
/homepages/28/d276247228/htdocs/000-TBL-000/VOJvojvode2/wp-content/plugins/nextgen-gallery/products/photocrati_nextgen/modules/fs/package.module.fs.php
on line
263
Warning
: count(): Parameter must be an array or an object that implements Countable in
/homepages/28/d276247228/htdocs/000-TBL-000/VOJvojvode2/wp-content/plugins/nextgen-gallery/products/photocrati_nextgen/modules/fs/package.module.fs.php
on line
263
Warning
: count(): Parameter must be an array or an object that implements Countable in
/homepages/28/d276247228/htdocs/000-TBL-000/VOJvojvode2/wp-content/plugins/nextgen-gallery/products/photocrati_nextgen/modules/fs/package.module.fs.php
on line
263
Warning
: count(): Parameter must be an array or an object that implements Countable in
/homepages/28/d276247228/htdocs/000-TBL-000/VOJvojvode2/wp-content/plugins/nextgen-gallery/products/photocrati_nextgen/modules/fs/package.module.fs.php
on line
263
Warning
: count(): Parameter must be an array or an object that implements Countable in
/homepages/28/d276247228/htdocs/000-TBL-000/VOJvojvode2/wp-content/plugins/nextgen-gallery/products/photocrati_nextgen/modules/fs/package.module.fs.php
on line
263
Warning
: count(): Parameter must be an array or an object that implements Countable in
/homepages/28/d276247228/htdocs/000-TBL-000/VOJvojvode2/wp-content/plugins/nextgen-gallery/products/photocrati_nextgen/modules/fs/package.module.fs.php
on line
263
Warning
: count(): Parameter must be an array or an object that implements Countable in
/homepages/28/d276247228/htdocs/000-TBL-000/VOJvojvode2/wp-content/plugins/nextgen-gallery/products/photocrati_nextgen/modules/fs/package.module.fs.php
on line
263
Warning
: count(): Parameter must be an array or an object that implements Countable in
/homepages/28/d276247228/htdocs/000-TBL-000/VOJvojvode2/wp-content/plugins/nextgen-gallery/products/photocrati_nextgen/modules/fs/package.module.fs.php
on line
263
Warning
: count(): Parameter must be an array or an object that implements Countable in
/homepages/28/d276247228/htdocs/000-TBL-000/VOJvojvode2/wp-content/plugins/nextgen-gallery/products/photocrati_nextgen/modules/fs/package.module.fs.php
on line
263
Warning
: count(): Parameter must be an array or an object that implements Countable in
/homepages/28/d276247228/htdocs/000-TBL-000/VOJvojvode2/wp-content/plugins/nextgen-gallery/products/photocrati_nextgen/modules/fs/package.module.fs.php
on line
263
Warning
: count(): Parameter must be an array or an object that implements Countable in
/homepages/28/d276247228/htdocs/000-TBL-000/VOJvojvode2/wp-content/plugins/nextgen-gallery/products/photocrati_nextgen/modules/fs/package.module.fs.php
on line
263
Warning
: count(): Parameter must be an array or an object that implements Countable in
/homepages/28/d276247228/htdocs/000-TBL-000/VOJvojvode2/wp-content/plugins/nextgen-gallery/products/photocrati_nextgen/modules/fs/package.module.fs.php
on line
263
Warning
: count(): Parameter must be an array or an object that implements Countable in
/homepages/28/d276247228/htdocs/000-TBL-000/VOJvojvode2/wp-content/plugins/nextgen-gallery/products/photocrati_nextgen/modules/fs/package.module.fs.php
on line
263
Warning
: count(): Parameter must be an array or an object that implements Countable in
/homepages/28/d276247228/htdocs/000-TBL-000/VOJvojvode2/wp-content/plugins/nextgen-gallery/products/photocrati_nextgen/modules/fs/package.module.fs.php
on line
263
Warning
: count(): Parameter must be an array or an object that implements Countable in
/homepages/28/d276247228/htdocs/000-TBL-000/VOJvojvode2/wp-content/plugins/nextgen-gallery/products/photocrati_nextgen/modules/fs/package.module.fs.php
on line
263
Warning
: count(): Parameter must be an array or an object that implements Countable in
/homepages/28/d276247228/htdocs/000-TBL-000/VOJvojvode2/wp-content/plugins/nextgen-gallery/products/photocrati_nextgen/modules/fs/package.module.fs.php
on line
263
Warning
: count(): Parameter must be an array or an object that implements Countable in
/homepages/28/d276247228/htdocs/000-TBL-000/VOJvojvode2/wp-content/plugins/nextgen-gallery/products/photocrati_nextgen/modules/fs/package.module.fs.php
on line
263
Warning
: count(): Parameter must be an array or an object that implements Countable in
/homepages/28/d276247228/htdocs/000-TBL-000/VOJvojvode2/wp-content/plugins/nextgen-gallery/products/photocrati_nextgen/modules/fs/package.module.fs.php
on line
263
Warning
: count(): Parameter must be an array or an object that implements Countable in
/homepages/28/d276247228/htdocs/000-TBL-000/VOJvojvode2/wp-content/plugins/nextgen-gallery/products/photocrati_nextgen/modules/fs/package.module.fs.php
on line
263
Warning
: count(): Parameter must be an array or an object that implements Countable in
/homepages/28/d276247228/htdocs/000-TBL-000/VOJvojvode2/wp-content/plugins/nextgen-gallery/products/photocrati_nextgen/modules/fs/package.module.fs.php
on line
263
Warning
: count(): Parameter must be an array or an object that implements Countable in
/homepages/28/d276247228/htdocs/000-TBL-000/VOJvojvode2/wp-content/plugins/nextgen-gallery/products/photocrati_nextgen/modules/fs/package.module.fs.php
on line
263
Warning
: count(): Parameter must be an array or an object that implements Countable in
/homepages/28/d276247228/htdocs/000-TBL-000/VOJvojvode2/wp-content/plugins/nextgen-gallery/products/photocrati_nextgen/modules/fs/package.module.fs.php
on line
263
Warning
: count(): Parameter must be an array or an object that implements Countable in
/homepages/28/d276247228/htdocs/000-TBL-000/VOJvojvode2/wp-content/plugins/nextgen-gallery/products/photocrati_nextgen/modules/fs/package.module.fs.php
on line
263
Warning
: count(): Parameter must be an array or an object that implements Countable in
/homepages/28/d276247228/htdocs/000-TBL-000/VOJvojvode2/wp-content/plugins/nextgen-gallery/products/photocrati_nextgen/modules/fs/package.module.fs.php
on line
263
Warning
: count(): Parameter must be an array or an object that implements Countable in
/homepages/28/d276247228/htdocs/000-TBL-000/VOJvojvode2/wp-content/plugins/nextgen-gallery/products/photocrati_nextgen/modules/fs/package.module.fs.php
on line
263
Warning
: count(): Parameter must be an array or an object that implements Countable in
/homepages/28/d276247228/htdocs/000-TBL-000/VOJvojvode2/wp-content/plugins/nextgen-gallery/products/photocrati_nextgen/modules/fs/package.module.fs.php
on line
263
Warning
: count(): Parameter must be an array or an object that implements Countable in
/homepages/28/d276247228/htdocs/000-TBL-000/VOJvojvode2/wp-content/plugins/nextgen-gallery/products/photocrati_nextgen/modules/fs/package.module.fs.php
on line
263
Warning
: count(): Parameter must be an array or an object that implements Countable in
/homepages/28/d276247228/htdocs/000-TBL-000/VOJvojvode2/wp-content/plugins/nextgen-gallery/products/photocrati_nextgen/modules/fs/package.module.fs.php
on line
263
Warning
: count(): Parameter must be an array or an object that implements Countable in
/homepages/28/d276247228/htdocs/000-TBL-000/VOJvojvode2/wp-content/plugins/nextgen-gallery/products/photocrati_nextgen/modules/fs/package.module.fs.php
on line
263
Warning
: count(): Parameter must be an array or an object that implements Countable in
/homepages/28/d276247228/htdocs/000-TBL-000/VOJvojvode2/wp-content/plugins/nextgen-gallery/products/photocrati_nextgen/modules/fs/package.module.fs.php
on line
263
Warning
: count(): Parameter must be an array or an object that implements Countable in
/homepages/28/d276247228/htdocs/000-TBL-000/VOJvojvode2/wp-content/plugins/nextgen-gallery/products/photocrati_nextgen/modules/fs/package.module.fs.php
on line
263
Warning
: count(): Parameter must be an array or an object that implements Countable in
/homepages/28/d276247228/htdocs/000-TBL-000/VOJvojvode2/wp-content/plugins/nextgen-gallery/products/photocrati_nextgen/modules/fs/package.module.fs.php
on line
263
Warning
: count(): Parameter must be an array or an object that implements Countable in
/homepages/28/d276247228/htdocs/000-TBL-000/VOJvojvode2/wp-content/plugins/nextgen-gallery/products/photocrati_nextgen/modules/fs/package.module.fs.php
on line
263
Warning
: count(): Parameter must be an array or an object that implements Countable in
/homepages/28/d276247228/htdocs/000-TBL-000/VOJvojvode2/wp-content/plugins/nextgen-gallery/products/photocrati_nextgen/modules/fs/package.module.fs.php
on line
263
Warning
: count(): Parameter must be an array or an object that implements Countable in
/homepages/28/d276247228/htdocs/000-TBL-000/VOJvojvode2/wp-content/plugins/nextgen-gallery/products/photocrati_nextgen/modules/fs/package.module.fs.php
on line
263
Warning
: count(): Parameter must be an array or an object that implements Countable in
/homepages/28/d276247228/htdocs/000-TBL-000/VOJvojvode2/wp-content/plugins/nextgen-gallery/products/photocrati_nextgen/modules/fs/package.module.fs.php
on line
263
Warning
: count(): Parameter must be an array or an object that implements Countable in
/homepages/28/d276247228/htdocs/000-TBL-000/VOJvojvode2/wp-content/plugins/nextgen-gallery/products/photocrati_nextgen/modules/fs/package.module.fs.php
on line
263
Warning
: count(): Parameter must be an array or an object that implements Countable in
/homepages/28/d276247228/htdocs/000-TBL-000/VOJvojvode2/wp-content/plugins/nextgen-gallery/products/photocrati_nextgen/modules/fs/package.module.fs.php
on line
263
Warning
: count(): Parameter must be an array or an object that implements Countable in
/homepages/28/d276247228/htdocs/000-TBL-000/VOJvojvode2/wp-content/plugins/nextgen-gallery/products/photocrati_nextgen/modules/fs/package.module.fs.php
on line
263
Warning
: count(): Parameter must be an array or an object that implements Countable in
/homepages/28/d276247228/htdocs/000-TBL-000/VOJvojvode2/wp-content/plugins/nextgen-gallery/products/photocrati_nextgen/modules/fs/package.module.fs.php
on line
263
Warning
: count(): Parameter must be an array or an object that implements Countable in
/homepages/28/d276247228/htdocs/000-TBL-000/VOJvojvode2/wp-content/plugins/nextgen-gallery/products/photocrati_nextgen/modules/fs/package.module.fs.php
on line
263
Warning
: count(): Parameter must be an array or an object that implements Countable in
/homepages/28/d276247228/htdocs/000-TBL-000/VOJvojvode2/wp-content/plugins/nextgen-gallery/products/photocrati_nextgen/modules/fs/package.module.fs.php
on line
263
Warning
: count(): Parameter must be an array or an object that implements Countable in
/homepages/28/d276247228/htdocs/000-TBL-000/VOJvojvode2/wp-content/plugins/nextgen-gallery/products/photocrati_nextgen/modules/fs/package.module.fs.php
on line
263
Warning
: count(): Parameter must be an array or an object that implements Countable in
/homepages/28/d276247228/htdocs/000-TBL-000/VOJvojvode2/wp-content/plugins/nextgen-gallery/products/photocrati_nextgen/modules/fs/package.module.fs.php
on line
263
Warning
: count(): Parameter must be an array or an object that implements Countable in
/homepages/28/d276247228/htdocs/000-TBL-000/VOJvojvode2/wp-content/plugins/nextgen-gallery/products/photocrati_nextgen/modules/fs/package.module.fs.php
on line
263
Warning
: count(): Parameter must be an array or an object that implements Countable in
/homepages/28/d276247228/htdocs/000-TBL-000/VOJvojvode2/wp-content/plugins/nextgen-gallery/products/photocrati_nextgen/modules/fs/package.module.fs.php
on line
263
Warning
: count(): Parameter must be an array or an object that implements Countable in
/homepages/28/d276247228/htdocs/000-TBL-000/VOJvojvode2/wp-content/plugins/nextgen-gallery/products/photocrati_nextgen/modules/fs/package.module.fs.php
on line
263
Warning
: count(): Parameter must be an array or an object that implements Countable in
/homepages/28/d276247228/htdocs/000-TBL-000/VOJvojvode2/wp-content/plugins/nextgen-gallery/products/photocrati_nextgen/modules/fs/package.module.fs.php
on line
263
Warning
: count(): Parameter must be an array or an object that implements Countable in
/homepages/28/d276247228/htdocs/000-TBL-000/VOJvojvode2/wp-content/plugins/nextgen-gallery/products/photocrati_nextgen/modules/fs/package.module.fs.php
on line
263
Warning
: count(): Parameter must be an array or an object that implements Countable in
/homepages/28/d276247228/htdocs/000-TBL-000/VOJvojvode2/wp-content/plugins/nextgen-gallery/products/photocrati_nextgen/modules/fs/package.module.fs.php
on line
263
Warning
: count(): Parameter must be an array or an object that implements Countable in
/homepages/28/d276247228/htdocs/000-TBL-000/VOJvojvode2/wp-content/plugins/nextgen-gallery/products/photocrati_nextgen/modules/fs/package.module.fs.php
on line
263
Warning
: count(): Parameter must be an array or an object that implements Countable in
/homepages/28/d276247228/htdocs/000-TBL-000/VOJvojvode2/wp-content/plugins/nextgen-gallery/products/photocrati_nextgen/modules/fs/package.module.fs.php
on line
263
Warning
: count(): Parameter must be an array or an object that implements Countable in
/homepages/28/d276247228/htdocs/000-TBL-000/VOJvojvode2/wp-content/plugins/nextgen-gallery/products/photocrati_nextgen/modules/fs/package.module.fs.php
on line
263
Warning
: count(): Parameter must be an array or an object that implements Countable in
/homepages/28/d276247228/htdocs/000-TBL-000/VOJvojvode2/wp-content/plugins/nextgen-gallery/products/photocrati_nextgen/modules/fs/package.module.fs.php
on line
263
Warning
: count(): Parameter must be an array or an object that implements Countable in
/homepages/28/d276247228/htdocs/000-TBL-000/VOJvojvode2/wp-content/plugins/nextgen-gallery/products/photocrati_nextgen/modules/fs/package.module.fs.php
on line
263
Warning
: count(): Parameter must be an array or an object that implements Countable in
/homepages/28/d276247228/htdocs/000-TBL-000/VOJvojvode2/wp-content/plugins/nextgen-gallery/products/photocrati_nextgen/modules/fs/package.module.fs.php
on line
263
Warning
: count(): Parameter must be an array or an object that implements Countable in
/homepages/28/d276247228/htdocs/000-TBL-000/VOJvojvode2/wp-content/plugins/nextgen-gallery/products/photocrati_nextgen/modules/fs/package.module.fs.php
on line
263
Warning
: count(): Parameter must be an array or an object that implements Countable in
/homepages/28/d276247228/htdocs/000-TBL-000/VOJvojvode2/wp-content/plugins/nextgen-gallery/products/photocrati_nextgen/modules/fs/package.module.fs.php
on line
263
Warning
: count(): Parameter must be an array or an object that implements Countable in
/homepages/28/d276247228/htdocs/000-TBL-000/VOJvojvode2/wp-content/plugins/nextgen-gallery/products/photocrati_nextgen/modules/fs/package.module.fs.php
on line
263
Warning
: count(): Parameter must be an array or an object that implements Countable in
/homepages/28/d276247228/htdocs/000-TBL-000/VOJvojvode2/wp-content/plugins/nextgen-gallery/products/photocrati_nextgen/modules/fs/package.module.fs.php
on line
263
Warning
: count(): Parameter must be an array or an object that implements Countable in
/homepages/28/d276247228/htdocs/000-TBL-000/VOJvojvode2/wp-content/plugins/nextgen-gallery/products/photocrati_nextgen/modules/fs/package.module.fs.php
on line
263
Warning
: count(): Parameter must be an array or an object that implements Countable in
/homepages/28/d276247228/htdocs/000-TBL-000/VOJvojvode2/wp-content/plugins/nextgen-gallery/products/photocrati_nextgen/modules/fs/package.module.fs.php
on line
263
Warning
: count(): Parameter must be an array or an object that implements Countable in
/homepages/28/d276247228/htdocs/000-TBL-000/VOJvojvode2/wp-content/plugins/nextgen-gallery/products/photocrati_nextgen/modules/fs/package.module.fs.php
on line
263
Warning
: count(): Parameter must be an array or an object that implements Countable in
/homepages/28/d276247228/htdocs/000-TBL-000/VOJvojvode2/wp-content/plugins/nextgen-gallery/products/photocrati_nextgen/modules/fs/package.module.fs.php
on line
263
Warning
: count(): Parameter must be an array or an object that implements Countable in
/homepages/28/d276247228/htdocs/000-TBL-000/VOJvojvode2/wp-content/plugins/nextgen-gallery/products/photocrati_nextgen/modules/fs/package.module.fs.php
on line
263
Warning
: count(): Parameter must be an array or an object that implements Countable in
/homepages/28/d276247228/htdocs/000-TBL-000/VOJvojvode2/wp-content/plugins/nextgen-gallery/products/photocrati_nextgen/modules/fs/package.module.fs.php
on line
263
Warning
: count(): Parameter must be an array or an object that implements Countable in
/homepages/28/d276247228/htdocs/000-TBL-000/VOJvojvode2/wp-content/plugins/nextgen-gallery/products/photocrati_nextgen/modules/fs/package.module.fs.php
on line
263
Warning
: count(): Parameter must be an array or an object that implements Countable in
/homepages/28/d276247228/htdocs/000-TBL-000/VOJvojvode2/wp-content/plugins/nextgen-gallery/products/photocrati_nextgen/modules/fs/package.module.fs.php
on line
263
Warning
: count(): Parameter must be an array or an object that implements Countable in
/homepages/28/d276247228/htdocs/000-TBL-000/VOJvojvode2/wp-content/plugins/nextgen-gallery/products/photocrati_nextgen/modules/fs/package.module.fs.php
on line
263
Warning
: count(): Parameter must be an array or an object that implements Countable in
/homepages/28/d276247228/htdocs/000-TBL-000/VOJvojvode2/wp-content/plugins/nextgen-gallery/products/photocrati_nextgen/modules/fs/package.module.fs.php
on line
263
Warning
: count(): Parameter must be an array or an object that implements Countable in
/homepages/28/d276247228/htdocs/000-TBL-000/VOJvojvode2/wp-content/plugins/nextgen-gallery/products/photocrati_nextgen/modules/fs/package.module.fs.php
on line
263
Warning
: count(): Parameter must be an array or an object that implements Countable in
/homepages/28/d276247228/htdocs/000-TBL-000/VOJvojvode2/wp-content/plugins/nextgen-gallery/products/photocrati_nextgen/modules/fs/package.module.fs.php
on line
263
Warning
: count(): Parameter must be an array or an object that implements Countable in
/homepages/28/d276247228/htdocs/000-TBL-000/VOJvojvode2/wp-content/plugins/nextgen-gallery/products/photocrati_nextgen/modules/fs/package.module.fs.php
on line
263
Warning
: count(): Parameter must be an array or an object that implements Countable in
/homepages/28/d276247228/htdocs/000-TBL-000/VOJvojvode2/wp-content/plugins/nextgen-gallery/products/photocrati_nextgen/modules/fs/package.module.fs.php
on line
263
Warning
: count(): Parameter must be an array or an object that implements Countable in
/homepages/28/d276247228/htdocs/000-TBL-000/VOJvojvode2/wp-content/plugins/nextgen-gallery/products/photocrati_nextgen/modules/fs/package.module.fs.php
on line
263
Warning
: count(): Parameter must be an array or an object that implements Countable in
/homepages/28/d276247228/htdocs/000-TBL-000/VOJvojvode2/wp-content/plugins/nextgen-gallery/products/photocrati_nextgen/modules/fs/package.module.fs.php
on line
263
Warning
: count(): Parameter must be an array or an object that implements Countable in
/homepages/28/d276247228/htdocs/000-TBL-000/VOJvojvode2/wp-content/plugins/nextgen-gallery/products/photocrati_nextgen/modules/fs/package.module.fs.php
on line
263
Warning
: count(): Parameter must be an array or an object that implements Countable in
/homepages/28/d276247228/htdocs/000-TBL-000/VOJvojvode2/wp-content/plugins/nextgen-gallery/products/photocrati_nextgen/modules/fs/package.module.fs.php
on line
263
Warning
: count(): Parameter must be an array or an object that implements Countable in
/homepages/28/d276247228/htdocs/000-TBL-000/VOJvojvode2/wp-content/plugins/nextgen-gallery/products/photocrati_nextgen/modules/fs/package.module.fs.php
on line
263
Warning
: count(): Parameter must be an array or an object that implements Countable in
/homepages/28/d276247228/htdocs/000-TBL-000/VOJvojvode2/wp-content/plugins/nextgen-gallery/products/photocrati_nextgen/modules/fs/package.module.fs.php
on line
263
Warning
: count(): Parameter must be an array or an object that implements Countable in
/homepages/28/d276247228/htdocs/000-TBL-000/VOJvojvode2/wp-content/plugins/nextgen-gallery/products/photocrati_nextgen/modules/fs/package.module.fs.php
on line
263
Warning
: count(): Parameter must be an array or an object that implements Countable in
/homepages/28/d276247228/htdocs/000-TBL-000/VOJvojvode2/wp-content/plugins/nextgen-gallery/products/photocrati_nextgen/modules/fs/package.module.fs.php
on line
263
Warning
: count(): Parameter must be an array or an object that implements Countable in
/homepages/28/d276247228/htdocs/000-TBL-000/VOJvojvode2/wp-content/plugins/nextgen-gallery/products/photocrati_nextgen/modules/fs/package.module.fs.php
on line
263
Warning
: count(): Parameter must be an array or an object that implements Countable in
/homepages/28/d276247228/htdocs/000-TBL-000/VOJvojvode2/wp-content/plugins/nextgen-gallery/products/photocrati_nextgen/modules/fs/package.module.fs.php
on line
263
Warning
: count(): Parameter must be an array or an object that implements Countable in
/homepages/28/d276247228/htdocs/000-TBL-000/VOJvojvode2/wp-content/plugins/nextgen-gallery/products/photocrati_nextgen/modules/fs/package.module.fs.php
on line
263
Warning
: count(): Parameter must be an array or an object that implements Countable in
/homepages/28/d276247228/htdocs/000-TBL-000/VOJvojvode2/wp-content/plugins/nextgen-gallery/products/photocrati_nextgen/modules/fs/package.module.fs.php
on line
263
Warning
: count(): Parameter must be an array or an object that implements Countable in
/homepages/28/d276247228/htdocs/000-TBL-000/VOJvojvode2/wp-content/plugins/nextgen-gallery/products/photocrati_nextgen/modules/fs/package.module.fs.php
on line
263
Warning
: count(): Parameter must be an array or an object that implements Countable in
/homepages/28/d276247228/htdocs/000-TBL-000/VOJvojvode2/wp-content/plugins/nextgen-gallery/products/photocrati_nextgen/modules/fs/package.module.fs.php
on line
263
Warning
: count(): Parameter must be an array or an object that implements Countable in
/homepages/28/d276247228/htdocs/000-TBL-000/VOJvojvode2/wp-content/plugins/nextgen-gallery/products/photocrati_nextgen/modules/fs/package.module.fs.php
on line
263
Warning
: count(): Parameter must be an array or an object that implements Countable in
/homepages/28/d276247228/htdocs/000-TBL-000/VOJvojvode2/wp-content/plugins/nextgen-gallery/products/photocrati_nextgen/modules/fs/package.module.fs.php
on line
263
Warning
: count(): Parameter must be an array or an object that implements Countable in
/homepages/28/d276247228/htdocs/000-TBL-000/VOJvojvode2/wp-content/plugins/nextgen-gallery/products/photocrati_nextgen/modules/fs/package.module.fs.php
on line
263
Warning
: count(): Parameter must be an array or an object that implements Countable in
/homepages/28/d276247228/htdocs/000-TBL-000/VOJvojvode2/wp-content/plugins/nextgen-gallery/products/photocrati_nextgen/modules/fs/package.module.fs.php
on line
263
Warning
: count(): Parameter must be an array or an object that implements Countable in
/homepages/28/d276247228/htdocs/000-TBL-000/VOJvojvode2/wp-content/plugins/nextgen-gallery/products/photocrati_nextgen/modules/fs/package.module.fs.php
on line
263
Warning
: count(): Parameter must be an array or an object that implements Countable in
/homepages/28/d276247228/htdocs/000-TBL-000/VOJvojvode2/wp-content/plugins/nextgen-gallery/products/photocrati_nextgen/modules/fs/package.module.fs.php
on line
263
Warning
: count(): Parameter must be an array or an object that implements Countable in
/homepages/28/d276247228/htdocs/000-TBL-000/VOJvojvode2/wp-content/plugins/nextgen-gallery/products/photocrati_nextgen/modules/fs/package.module.fs.php
on line
263
Warning
: count(): Parameter must be an array or an object that implements Countable in
/homepages/28/d276247228/htdocs/000-TBL-000/VOJvojvode2/wp-content/plugins/nextgen-gallery/products/photocrati_nextgen/modules/fs/package.module.fs.php
on line
263
Warning
: count(): Parameter must be an array or an object that implements Countable in
/homepages/28/d276247228/htdocs/000-TBL-000/VOJvojvode2/wp-content/plugins/nextgen-gallery/products/photocrati_nextgen/modules/fs/package.module.fs.php
on line
263
Warning
: count(): Parameter must be an array or an object that implements Countable in
/homepages/28/d276247228/htdocs/000-TBL-000/VOJvojvode2/wp-content/plugins/nextgen-gallery/products/photocrati_nextgen/modules/fs/package.module.fs.php
on line
263
Warning
: count(): Parameter must be an array or an object that implements Countable in
/homepages/28/d276247228/htdocs/000-TBL-000/VOJvojvode2/wp-content/plugins/nextgen-gallery/products/photocrati_nextgen/modules/fs/package.module.fs.php
on line
263
Warning
: count(): Parameter must be an array or an object that implements Countable in
/homepages/28/d276247228/htdocs/000-TBL-000/VOJvojvode2/wp-content/plugins/nextgen-gallery/products/photocrati_nextgen/modules/fs/package.module.fs.php
on line
263
Warning
: count(): Parameter must be an array or an object that implements Countable in
/homepages/28/d276247228/htdocs/000-TBL-000/VOJvojvode2/wp-content/plugins/nextgen-gallery/products/photocrati_nextgen/modules/fs/package.module.fs.php
on line
263
Warning
: count(): Parameter must be an array or an object that implements Countable in
/homepages/28/d276247228/htdocs/000-TBL-000/VOJvojvode2/wp-content/plugins/nextgen-gallery/products/photocrati_nextgen/modules/fs/package.module.fs.php
on line
263
Warning
: count(): Parameter must be an array or an object that implements Countable in
/homepages/28/d276247228/htdocs/000-TBL-000/VOJvojvode2/wp-content/plugins/nextgen-gallery/products/photocrati_nextgen/modules/fs/package.module.fs.php
on line
263
Warning
: count(): Parameter must be an array or an object that implements Countable in
/homepages/28/d276247228/htdocs/000-TBL-000/VOJvojvode2/wp-content/plugins/nextgen-gallery/products/photocrati_nextgen/modules/fs/package.module.fs.php
on line
263
Warning
: count(): Parameter must be an array or an object that implements Countable in
/homepages/28/d276247228/htdocs/000-TBL-000/VOJvojvode2/wp-content/plugins/nextgen-gallery/products/photocrati_nextgen/modules/fs/package.module.fs.php
on line
263
Warning
: count(): Parameter must be an array or an object that implements Countable in
/homepages/28/d276247228/htdocs/000-TBL-000/VOJvojvode2/wp-content/plugins/nextgen-gallery/products/photocrati_nextgen/modules/fs/package.module.fs.php
on line
263
Warning
: count(): Parameter must be an array or an object that implements Countable in
/homepages/28/d276247228/htdocs/000-TBL-000/VOJvojvode2/wp-content/plugins/nextgen-gallery/products/photocrati_nextgen/modules/fs/package.module.fs.php
on line
263
Warning
: count(): Parameter must be an array or an object that implements Countable in
/homepages/28/d276247228/htdocs/000-TBL-000/VOJvojvode2/wp-content/plugins/nextgen-gallery/products/photocrati_nextgen/modules/fs/package.module.fs.php
on line
263
Warning
: count(): Parameter must be an array or an object that implements Countable in
/homepages/28/d276247228/htdocs/000-TBL-000/VOJvojvode2/wp-content/plugins/nextgen-gallery/products/photocrati_nextgen/modules/fs/package.module.fs.php
on line
263
Warning
: count(): Parameter must be an array or an object that implements Countable in
/homepages/28/d276247228/htdocs/000-TBL-000/VOJvojvode2/wp-content/plugins/nextgen-gallery/products/photocrati_nextgen/modules/fs/package.module.fs.php
on line
263
Warning
: count(): Parameter must be an array or an object that implements Countable in
/homepages/28/d276247228/htdocs/000-TBL-000/VOJvojvode2/wp-content/plugins/nextgen-gallery/products/photocrati_nextgen/modules/fs/package.module.fs.php
on line
263
Warning
: count(): Parameter must be an array or an object that implements Countable in
/homepages/28/d276247228/htdocs/000-TBL-000/VOJvojvode2/wp-content/plugins/nextgen-gallery/products/photocrati_nextgen/modules/fs/package.module.fs.php
on line
263
Warning
: count(): Parameter must be an array or an object that implements Countable in
/homepages/28/d276247228/htdocs/000-TBL-000/VOJvojvode2/wp-content/plugins/nextgen-gallery/products/photocrati_nextgen/modules/fs/package.module.fs.php
on line
263
Warning
: count(): Parameter must be an array or an object that implements Countable in
/homepages/28/d276247228/htdocs/000-TBL-000/VOJvojvode2/wp-content/plugins/nextgen-gallery/products/photocrati_nextgen/modules/fs/package.module.fs.php
on line
263
Warning
: count(): Parameter must be an array or an object that implements Countable in
/homepages/28/d276247228/htdocs/000-TBL-000/VOJvojvode2/wp-content/plugins/nextgen-gallery/products/photocrati_nextgen/modules/fs/package.module.fs.php
on line
263
Warning
: count(): Parameter must be an array or an object that implements Countable in
/homepages/28/d276247228/htdocs/000-TBL-000/VOJvojvode2/wp-content/plugins/nextgen-gallery/products/photocrati_nextgen/modules/fs/package.module.fs.php
on line
263
Warning
: count(): Parameter must be an array or an object that implements Countable in
/homepages/28/d276247228/htdocs/000-TBL-000/VOJvojvode2/wp-content/plugins/nextgen-gallery/products/photocrati_nextgen/modules/fs/package.module.fs.php
on line
263
Warning
: count(): Parameter must be an array or an object that implements Countable in
/homepages/28/d276247228/htdocs/000-TBL-000/VOJvojvode2/wp-content/plugins/nextgen-gallery/products/photocrati_nextgen/modules/fs/package.module.fs.php
on line
263
Warning
: count(): Parameter must be an array or an object that implements Countable in
/homepages/28/d276247228/htdocs/000-TBL-000/VOJvojvode2/wp-content/plugins/nextgen-gallery/products/photocrati_nextgen/modules/fs/package.module.fs.php
on line
263
Warning
: count(): Parameter must be an array or an object that implements Countable in
/homepages/28/d276247228/htdocs/000-TBL-000/VOJvojvode2/wp-content/plugins/nextgen-gallery/products/photocrati_nextgen/modules/fs/package.module.fs.php
on line
263
Warning
: count(): Parameter must be an array or an object that implements Countable in
/homepages/28/d276247228/htdocs/000-TBL-000/VOJvojvode2/wp-content/plugins/nextgen-gallery/products/photocrati_nextgen/modules/fs/package.module.fs.php
on line
263
Warning
: count(): Parameter must be an array or an object that implements Countable in
/homepages/28/d276247228/htdocs/000-TBL-000/VOJvojvode2/wp-content/plugins/nextgen-gallery/products/photocrati_nextgen/modules/fs/package.module.fs.php
on line
263
Warning
: count(): Parameter must be an array or an object that implements Countable in
/homepages/28/d276247228/htdocs/000-TBL-000/VOJvojvode2/wp-content/plugins/nextgen-gallery/products/photocrati_nextgen/modules/fs/package.module.fs.php
on line
263
Warning
: count(): Parameter must be an array or an object that implements Countable in
/homepages/28/d276247228/htdocs/000-TBL-000/VOJvojvode2/wp-content/plugins/nextgen-gallery/products/photocrati_nextgen/modules/fs/package.module.fs.php
on line
263
Warning
: count(): Parameter must be an array or an object that implements Countable in
/homepages/28/d276247228/htdocs/000-TBL-000/VOJvojvode2/wp-content/plugins/nextgen-gallery/products/photocrati_nextgen/modules/fs/package.module.fs.php
on line
263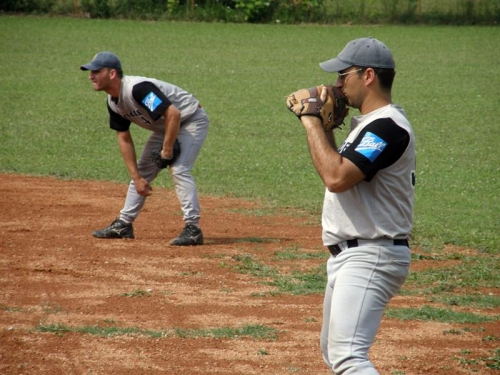 Bejzbol klub "VOJVODE" registrovan je 13. decembra 1996. godine, u Zemunu.
Inicijativa za osnivanje novog kluba je potekla od Momcila Kojica, dotadašnjeg igraca BK 'DOGS', koji je , nakon ujedinjenja kluba 'DOGS' sa najvecim rivalom, klubom 'KINGS', revoltiran, odlucio da, sa nekolicinom potpunih pocetnika, a uz pomoc svog brata Borivoja Jeremica i prijatelja Danijela Kozjaka, pokuša da unese dinamiku u bejzbol prvenstvo Jugoslavije.
Osnivaci kluba su, pored Kojica, Kozjaka i Jeremica bili jos i A. Kukoleca, A. Dimitrijevic, A. Radu, V. Cirkovic i S. Bajevic.
Prve prijateljske utakmice su odigrane protiv BK 'BEOGRAD 96' u jesen '96. a 1997. BK 'VOJVODE' pocinje da se takmici u Prvenstvu i Kupu Jugoslavije.
Nakon osvojenog treceg i dva druga mesta u prvenstvu, i dva poraza u finalu kupa, 2000. godine konacno stasava mlada ekipa i tada pocinje dominacija BK 'VOJOVDE' u srpskom bejzbolu: od 2000. do 2003. osvojene su tri titule prvaka i cetiri titule osvajaca Kupa Jugoslavije, a igraci 'VOJVODA' su postali okosnica reprezentacije.
Ovaj period postojanja 'VOJVODA', poznat pod imenom 'dinastija' obelezili su: P. Kukoleca, D. Kozjak, M. Kojic, A. Kukoleca, B. Jeremic, S. Bajevic, S. Spasic, Va. Lalic, Vo. Lalic, M. Ivkovic, D. Gasic, B. Botunjac, M. Rakonjac, A. Radosavljevic, D. Mikalacki i mnogi drugi koji su svojom nešto manjom ulogom doprineli uspesima.
2004. godine, nakon osipanja srži ekipe, 'VOJVODE' se okrecu podmladjivanju i izgradnji novih šampiona.
2008. godine, nakon debitovanja u regionalnoj Interligi, u kojoj se, i pored loših rezultata, ponovno oformila i oporavila ekipa, uz veliku pomoć, iz milošte nazvanog Miroslava, moldavca Adriana Pereližnog , Vojvode ponovo uzimaju Kup Srbije.
2009. godina je bila veoma uspešna za klub: i pored osvojenog trećeg mesta u ligaškom delu domaćeg prvenstva, Vojvode briljiraju u završnici i pobedama nad Beogradom96 u polufinalu 2-1 i nad Spartansima u finalu 3-0, vraćaju titulu prvaka Srbije u svoje vitrine. Pored domaćeg prvenstva odigrana je i još jedna sezona Interlige gde su Vojvode popravile skor u odnosu na prošlu godinu sa 3 pobede.
U junu 2009. Vojvode nastupaju na CEB qualifaing cup-u u Ostravi, Češka, gde i pored ne ostvarenog rezultata, pokazuju zavidan nivo igre, osvajaju trofej za Fair-Play, i najavljuju buduće nastupe na evropskoj sceni.
Igrači koji su obeležili sezonu su pored standardnih  Kozjaka, Kojića, Jeremića, Bogdanovića, Bereca, Spasića, Botunjca, Stefanovića, Krstića i Ilića su i pojačanja Vukomanović, Leonov i Novak. Za sledeću godinu najavljen je i povratak starih zvezda Vojvoda Dragana Gašića i Marka St. Nikolića.
2010. godina je bila godina prvih uspeha na internacionalnim takmičenjima, posle prve pobede nad hrvatskim glubom u Interligi nad Zagrebom u Beogradu usledila je i pobeda na CEB kupu u Antverpenu. Ekipa je tog proleća odigrala rekordnih 36 utakmica. To su bile poslednje zajedničke utakmice proslavljene generacije Vojvoda, Kozjaka, Bogdanovića, Ilića, Vukomanovića, Pereližnog, Kojića, Jeremića, Spasića, Bereca, N.Jeftića, Mihajlovića, Tankosića, Nikolića. Bila je to ekipa koju je trebalo pobediti.
…i danas se nastavak istorije piše….