Vesti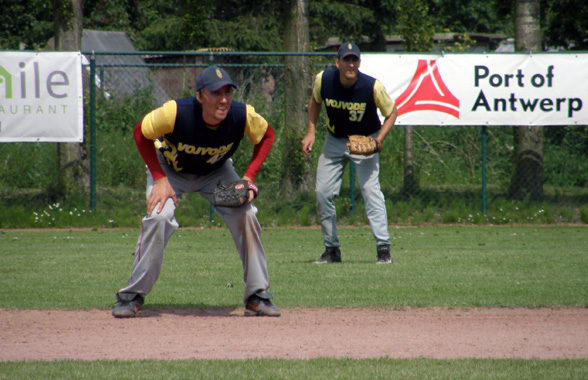 Antwerpen, Belgija, 14.-18.jun 2010. Učesnici turnira BK Vojvode Zemun, BK Nada Split, Port of Antwerp Greys (Belgija), Schwaz Tigers (Austrija), A.S. Spartakos Glyfadas (Grčka) i Technika Brno (Česka). U ovoj ne tako jakoj konkurenciji Vojvode su došle do 5-og mesta i do prve pobede na Internacionalnoj sceni (Vojvode 3-2 Schwaz Tigers, za Vojvode bacao Kozjak). Pokazali smo i zube Splitskoj Nadi koja je ipak slavila 2-1 za Grke nismo imali ni snage ni živaca te smo poklonili pobedu 7-6 i sa njom realno 4-to mesto . Technika Brno za klasu iznad svih (nismo jedini koji su pregaženi), a belgijanci su do kraja turnira ostali neubedljivi iako su uredno pobedjivali i igrali finale.
Tim koji je krenuo u Belgiju brojao je 15 igrača, stiglo je samo 14 i to su po lineup-u koji se uglavnom nije menja: C Berec, RF Bogdanovic, 2B Perelizny, CF Arandjelovic, 3B Vucevic, 1B Kojic, SS Jeremic, DH Mihajlovic, LF Spasic i naravno P Kozjak. U rezervi : Tankosic, Vukomanovic, Nikolic i Jevtic.
Statistiku sa ovog takmičenja i rezultate možete videti na linku http://competition.baseballeurope.com/2010/antwerp/schedule.php, i ispod možete da pogledajte foto storiju sa poslednje utakmice.
Warning
: count(): Parameter must be an array or an object that implements Countable in
/homepages/28/d276247228/htdocs/000-TBL-000/VOJvojvode2/wp-content/plugins/nextgen-gallery/products/photocrati_nextgen/modules/fs/package.module.fs.php
on line
263
Warning
: count(): Parameter must be an array or an object that implements Countable in
/homepages/28/d276247228/htdocs/000-TBL-000/VOJvojvode2/wp-content/plugins/nextgen-gallery/products/photocrati_nextgen/modules/fs/package.module.fs.php
on line
263
Warning
: count(): Parameter must be an array or an object that implements Countable in
/homepages/28/d276247228/htdocs/000-TBL-000/VOJvojvode2/wp-content/plugins/nextgen-gallery/products/photocrati_nextgen/modules/fs/package.module.fs.php
on line
263
Warning
: count(): Parameter must be an array or an object that implements Countable in
/homepages/28/d276247228/htdocs/000-TBL-000/VOJvojvode2/wp-content/plugins/nextgen-gallery/products/photocrati_nextgen/modules/fs/package.module.fs.php
on line
263
Warning
: count(): Parameter must be an array or an object that implements Countable in
/homepages/28/d276247228/htdocs/000-TBL-000/VOJvojvode2/wp-content/plugins/nextgen-gallery/products/photocrati_nextgen/modules/fs/package.module.fs.php
on line
263
Warning
: count(): Parameter must be an array or an object that implements Countable in
/homepages/28/d276247228/htdocs/000-TBL-000/VOJvojvode2/wp-content/plugins/nextgen-gallery/products/photocrati_nextgen/modules/fs/package.module.fs.php
on line
263
Warning
: count(): Parameter must be an array or an object that implements Countable in
/homepages/28/d276247228/htdocs/000-TBL-000/VOJvojvode2/wp-content/plugins/nextgen-gallery/products/photocrati_nextgen/modules/fs/package.module.fs.php
on line
263
Warning
: count(): Parameter must be an array or an object that implements Countable in
/homepages/28/d276247228/htdocs/000-TBL-000/VOJvojvode2/wp-content/plugins/nextgen-gallery/products/photocrati_nextgen/modules/fs/package.module.fs.php
on line
263
Warning
: count(): Parameter must be an array or an object that implements Countable in
/homepages/28/d276247228/htdocs/000-TBL-000/VOJvojvode2/wp-content/plugins/nextgen-gallery/products/photocrati_nextgen/modules/fs/package.module.fs.php
on line
263
Warning
: count(): Parameter must be an array or an object that implements Countable in
/homepages/28/d276247228/htdocs/000-TBL-000/VOJvojvode2/wp-content/plugins/nextgen-gallery/products/photocrati_nextgen/modules/fs/package.module.fs.php
on line
263
Warning
: count(): Parameter must be an array or an object that implements Countable in
/homepages/28/d276247228/htdocs/000-TBL-000/VOJvojvode2/wp-content/plugins/nextgen-gallery/products/photocrati_nextgen/modules/fs/package.module.fs.php
on line
263
Warning
: count(): Parameter must be an array or an object that implements Countable in
/homepages/28/d276247228/htdocs/000-TBL-000/VOJvojvode2/wp-content/plugins/nextgen-gallery/products/photocrati_nextgen/modules/fs/package.module.fs.php
on line
263
Warning
: count(): Parameter must be an array or an object that implements Countable in
/homepages/28/d276247228/htdocs/000-TBL-000/VOJvojvode2/wp-content/plugins/nextgen-gallery/products/photocrati_nextgen/modules/fs/package.module.fs.php
on line
263
Warning
: count(): Parameter must be an array or an object that implements Countable in
/homepages/28/d276247228/htdocs/000-TBL-000/VOJvojvode2/wp-content/plugins/nextgen-gallery/products/photocrati_nextgen/modules/fs/package.module.fs.php
on line
263
Warning
: count(): Parameter must be an array or an object that implements Countable in
/homepages/28/d276247228/htdocs/000-TBL-000/VOJvojvode2/wp-content/plugins/nextgen-gallery/products/photocrati_nextgen/modules/fs/package.module.fs.php
on line
263
Warning
: count(): Parameter must be an array or an object that implements Countable in
/homepages/28/d276247228/htdocs/000-TBL-000/VOJvojvode2/wp-content/plugins/nextgen-gallery/products/photocrati_nextgen/modules/fs/package.module.fs.php
on line
263
Warning
: count(): Parameter must be an array or an object that implements Countable in
/homepages/28/d276247228/htdocs/000-TBL-000/VOJvojvode2/wp-content/plugins/nextgen-gallery/products/photocrati_nextgen/modules/fs/package.module.fs.php
on line
263
Warning
: count(): Parameter must be an array or an object that implements Countable in
/homepages/28/d276247228/htdocs/000-TBL-000/VOJvojvode2/wp-content/plugins/nextgen-gallery/products/photocrati_nextgen/modules/fs/package.module.fs.php
on line
263
Warning
: count(): Parameter must be an array or an object that implements Countable in
/homepages/28/d276247228/htdocs/000-TBL-000/VOJvojvode2/wp-content/plugins/nextgen-gallery/products/photocrati_nextgen/modules/fs/package.module.fs.php
on line
263
Warning
: count(): Parameter must be an array or an object that implements Countable in
/homepages/28/d276247228/htdocs/000-TBL-000/VOJvojvode2/wp-content/plugins/nextgen-gallery/products/photocrati_nextgen/modules/fs/package.module.fs.php
on line
263
Warning
: count(): Parameter must be an array or an object that implements Countable in
/homepages/28/d276247228/htdocs/000-TBL-000/VOJvojvode2/wp-content/plugins/nextgen-gallery/products/photocrati_nextgen/modules/fs/package.module.fs.php
on line
263
Warning
: count(): Parameter must be an array or an object that implements Countable in
/homepages/28/d276247228/htdocs/000-TBL-000/VOJvojvode2/wp-content/plugins/nextgen-gallery/products/photocrati_nextgen/modules/fs/package.module.fs.php
on line
263
Warning
: count(): Parameter must be an array or an object that implements Countable in
/homepages/28/d276247228/htdocs/000-TBL-000/VOJvojvode2/wp-content/plugins/nextgen-gallery/products/photocrati_nextgen/modules/fs/package.module.fs.php
on line
263
Warning
: count(): Parameter must be an array or an object that implements Countable in
/homepages/28/d276247228/htdocs/000-TBL-000/VOJvojvode2/wp-content/plugins/nextgen-gallery/products/photocrati_nextgen/modules/fs/package.module.fs.php
on line
263
Warning
: count(): Parameter must be an array or an object that implements Countable in
/homepages/28/d276247228/htdocs/000-TBL-000/VOJvojvode2/wp-content/plugins/nextgen-gallery/products/photocrati_nextgen/modules/fs/package.module.fs.php
on line
263
Warning
: count(): Parameter must be an array or an object that implements Countable in
/homepages/28/d276247228/htdocs/000-TBL-000/VOJvojvode2/wp-content/plugins/nextgen-gallery/products/photocrati_nextgen/modules/fs/package.module.fs.php
on line
263
Warning
: count(): Parameter must be an array or an object that implements Countable in
/homepages/28/d276247228/htdocs/000-TBL-000/VOJvojvode2/wp-content/plugins/nextgen-gallery/products/photocrati_nextgen/modules/fs/package.module.fs.php
on line
263
Warning
: count(): Parameter must be an array or an object that implements Countable in
/homepages/28/d276247228/htdocs/000-TBL-000/VOJvojvode2/wp-content/plugins/nextgen-gallery/products/photocrati_nextgen/modules/fs/package.module.fs.php
on line
263
Warning
: count(): Parameter must be an array or an object that implements Countable in
/homepages/28/d276247228/htdocs/000-TBL-000/VOJvojvode2/wp-content/plugins/nextgen-gallery/products/photocrati_nextgen/modules/fs/package.module.fs.php
on line
263
Warning
: count(): Parameter must be an array or an object that implements Countable in
/homepages/28/d276247228/htdocs/000-TBL-000/VOJvojvode2/wp-content/plugins/nextgen-gallery/products/photocrati_nextgen/modules/fs/package.module.fs.php
on line
263
Warning
: count(): Parameter must be an array or an object that implements Countable in
/homepages/28/d276247228/htdocs/000-TBL-000/VOJvojvode2/wp-content/plugins/nextgen-gallery/products/photocrati_nextgen/modules/fs/package.module.fs.php
on line
263
Warning
: count(): Parameter must be an array or an object that implements Countable in
/homepages/28/d276247228/htdocs/000-TBL-000/VOJvojvode2/wp-content/plugins/nextgen-gallery/products/photocrati_nextgen/modules/fs/package.module.fs.php
on line
263
Warning
: count(): Parameter must be an array or an object that implements Countable in
/homepages/28/d276247228/htdocs/000-TBL-000/VOJvojvode2/wp-content/plugins/nextgen-gallery/products/photocrati_nextgen/modules/fs/package.module.fs.php
on line
263
Warning
: count(): Parameter must be an array or an object that implements Countable in
/homepages/28/d276247228/htdocs/000-TBL-000/VOJvojvode2/wp-content/plugins/nextgen-gallery/products/photocrati_nextgen/modules/fs/package.module.fs.php
on line
263
Warning
: count(): Parameter must be an array or an object that implements Countable in
/homepages/28/d276247228/htdocs/000-TBL-000/VOJvojvode2/wp-content/plugins/nextgen-gallery/products/photocrati_nextgen/modules/fs/package.module.fs.php
on line
263
Warning
: count(): Parameter must be an array or an object that implements Countable in
/homepages/28/d276247228/htdocs/000-TBL-000/VOJvojvode2/wp-content/plugins/nextgen-gallery/products/photocrati_nextgen/modules/fs/package.module.fs.php
on line
263
Warning
: count(): Parameter must be an array or an object that implements Countable in
/homepages/28/d276247228/htdocs/000-TBL-000/VOJvojvode2/wp-content/plugins/nextgen-gallery/products/photocrati_nextgen/modules/fs/package.module.fs.php
on line
263
Warning
: count(): Parameter must be an array or an object that implements Countable in
/homepages/28/d276247228/htdocs/000-TBL-000/VOJvojvode2/wp-content/plugins/nextgen-gallery/products/photocrati_nextgen/modules/fs/package.module.fs.php
on line
263
Warning
: count(): Parameter must be an array or an object that implements Countable in
/homepages/28/d276247228/htdocs/000-TBL-000/VOJvojvode2/wp-content/plugins/nextgen-gallery/products/photocrati_nextgen/modules/fs/package.module.fs.php
on line
263
Warning
: count(): Parameter must be an array or an object that implements Countable in
/homepages/28/d276247228/htdocs/000-TBL-000/VOJvojvode2/wp-content/plugins/nextgen-gallery/products/photocrati_nextgen/modules/fs/package.module.fs.php
on line
263
Warning
: count(): Parameter must be an array or an object that implements Countable in
/homepages/28/d276247228/htdocs/000-TBL-000/VOJvojvode2/wp-content/plugins/nextgen-gallery/products/photocrati_nextgen/modules/fs/package.module.fs.php
on line
263
Warning
: count(): Parameter must be an array or an object that implements Countable in
/homepages/28/d276247228/htdocs/000-TBL-000/VOJvojvode2/wp-content/plugins/nextgen-gallery/products/photocrati_nextgen/modules/fs/package.module.fs.php
on line
263
Warning
: count(): Parameter must be an array or an object that implements Countable in
/homepages/28/d276247228/htdocs/000-TBL-000/VOJvojvode2/wp-content/plugins/nextgen-gallery/products/photocrati_nextgen/modules/fs/package.module.fs.php
on line
263
Warning
: count(): Parameter must be an array or an object that implements Countable in
/homepages/28/d276247228/htdocs/000-TBL-000/VOJvojvode2/wp-content/plugins/nextgen-gallery/products/photocrati_nextgen/modules/fs/package.module.fs.php
on line
263
Warning
: count(): Parameter must be an array or an object that implements Countable in
/homepages/28/d276247228/htdocs/000-TBL-000/VOJvojvode2/wp-content/plugins/nextgen-gallery/products/photocrati_nextgen/modules/fs/package.module.fs.php
on line
263
Warning
: count(): Parameter must be an array or an object that implements Countable in
/homepages/28/d276247228/htdocs/000-TBL-000/VOJvojvode2/wp-content/plugins/nextgen-gallery/products/photocrati_nextgen/modules/fs/package.module.fs.php
on line
263
Warning
: count(): Parameter must be an array or an object that implements Countable in
/homepages/28/d276247228/htdocs/000-TBL-000/VOJvojvode2/wp-content/plugins/nextgen-gallery/products/photocrati_nextgen/modules/fs/package.module.fs.php
on line
263
Warning
: count(): Parameter must be an array or an object that implements Countable in
/homepages/28/d276247228/htdocs/000-TBL-000/VOJvojvode2/wp-content/plugins/nextgen-gallery/products/photocrati_nextgen/modules/fs/package.module.fs.php
on line
263
Warning
: count(): Parameter must be an array or an object that implements Countable in
/homepages/28/d276247228/htdocs/000-TBL-000/VOJvojvode2/wp-content/plugins/nextgen-gallery/products/photocrati_nextgen/modules/fs/package.module.fs.php
on line
263
Warning
: count(): Parameter must be an array or an object that implements Countable in
/homepages/28/d276247228/htdocs/000-TBL-000/VOJvojvode2/wp-content/plugins/nextgen-gallery/products/photocrati_nextgen/modules/fs/package.module.fs.php
on line
263
Warning
: count(): Parameter must be an array or an object that implements Countable in
/homepages/28/d276247228/htdocs/000-TBL-000/VOJvojvode2/wp-content/plugins/nextgen-gallery/products/photocrati_nextgen/modules/fs/package.module.fs.php
on line
263
Warning
: count(): Parameter must be an array or an object that implements Countable in
/homepages/28/d276247228/htdocs/000-TBL-000/VOJvojvode2/wp-content/plugins/nextgen-gallery/products/photocrati_nextgen/modules/fs/package.module.fs.php
on line
263
Warning
: count(): Parameter must be an array or an object that implements Countable in
/homepages/28/d276247228/htdocs/000-TBL-000/VOJvojvode2/wp-content/plugins/nextgen-gallery/products/photocrati_nextgen/modules/fs/package.module.fs.php
on line
263
Warning
: count(): Parameter must be an array or an object that implements Countable in
/homepages/28/d276247228/htdocs/000-TBL-000/VOJvojvode2/wp-content/plugins/nextgen-gallery/products/photocrati_nextgen/modules/fs/package.module.fs.php
on line
263
Warning
: count(): Parameter must be an array or an object that implements Countable in
/homepages/28/d276247228/htdocs/000-TBL-000/VOJvojvode2/wp-content/plugins/nextgen-gallery/products/photocrati_nextgen/modules/fs/package.module.fs.php
on line
263
Warning
: count(): Parameter must be an array or an object that implements Countable in
/homepages/28/d276247228/htdocs/000-TBL-000/VOJvojvode2/wp-content/plugins/nextgen-gallery/products/photocrati_nextgen/modules/fs/package.module.fs.php
on line
263
Warning
: count(): Parameter must be an array or an object that implements Countable in
/homepages/28/d276247228/htdocs/000-TBL-000/VOJvojvode2/wp-content/plugins/nextgen-gallery/products/photocrati_nextgen/modules/fs/package.module.fs.php
on line
263
Warning
: count(): Parameter must be an array or an object that implements Countable in
/homepages/28/d276247228/htdocs/000-TBL-000/VOJvojvode2/wp-content/plugins/nextgen-gallery/products/photocrati_nextgen/modules/fs/package.module.fs.php
on line
263
Warning
: count(): Parameter must be an array or an object that implements Countable in
/homepages/28/d276247228/htdocs/000-TBL-000/VOJvojvode2/wp-content/plugins/nextgen-gallery/products/photocrati_nextgen/modules/fs/package.module.fs.php
on line
263
Warning
: count(): Parameter must be an array or an object that implements Countable in
/homepages/28/d276247228/htdocs/000-TBL-000/VOJvojvode2/wp-content/plugins/nextgen-gallery/products/photocrati_nextgen/modules/fs/package.module.fs.php
on line
263
Warning
: count(): Parameter must be an array or an object that implements Countable in
/homepages/28/d276247228/htdocs/000-TBL-000/VOJvojvode2/wp-content/plugins/nextgen-gallery/products/photocrati_nextgen/modules/fs/package.module.fs.php
on line
263
Warning
: count(): Parameter must be an array or an object that implements Countable in
/homepages/28/d276247228/htdocs/000-TBL-000/VOJvojvode2/wp-content/plugins/nextgen-gallery/products/photocrati_nextgen/modules/fs/package.module.fs.php
on line
263
Warning
: count(): Parameter must be an array or an object that implements Countable in
/homepages/28/d276247228/htdocs/000-TBL-000/VOJvojvode2/wp-content/plugins/nextgen-gallery/products/photocrati_nextgen/modules/fs/package.module.fs.php
on line
263
Warning
: count(): Parameter must be an array or an object that implements Countable in
/homepages/28/d276247228/htdocs/000-TBL-000/VOJvojvode2/wp-content/plugins/nextgen-gallery/products/photocrati_nextgen/modules/fs/package.module.fs.php
on line
263
Warning
: count(): Parameter must be an array or an object that implements Countable in
/homepages/28/d276247228/htdocs/000-TBL-000/VOJvojvode2/wp-content/plugins/nextgen-gallery/products/photocrati_nextgen/modules/fs/package.module.fs.php
on line
263
Warning
: count(): Parameter must be an array or an object that implements Countable in
/homepages/28/d276247228/htdocs/000-TBL-000/VOJvojvode2/wp-content/plugins/nextgen-gallery/products/photocrati_nextgen/modules/fs/package.module.fs.php
on line
263
Warning
: count(): Parameter must be an array or an object that implements Countable in
/homepages/28/d276247228/htdocs/000-TBL-000/VOJvojvode2/wp-content/plugins/nextgen-gallery/products/photocrati_nextgen/modules/fs/package.module.fs.php
on line
263
2 Responses to "Prva internacionalna pobeda"